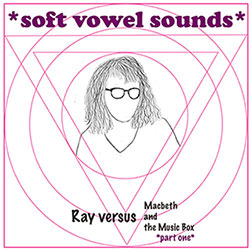 for interested media, reviewers & radio:
Ray versus Macbeth and the Music Box, part one
is the four-song debut EP from Oakland-based indie-pop artist *soft vowel sounds*. This page offers links to downloads, streaming, videos, photos, etc., related to the record for interested parties.
a "one sheet" for this record (PDF format) is available here
physical CDs are available upon request
brief bio
*soft vowel sounds* is the latest solo music project from former
Bitesize
guitarist-vocalist-principal songwriter Julia Serano. With *soft vowel sounds*, Julia offers a rather novel mix of deliciously percussive and dissonant guitar noises, catchy-as-hell melodies, oddly endearing vocals, and smart yet playful lyrics. While decidedly contemporary, the quirkiness and charming minimalism of *soft vowel sounds* evokes the spirit of early lo-fi recordings from artists such as Pavement, Liz Phair, Guided By Voices, Beat Happening, Sebadoh, and They Might Be Giants.
record info
:
Release date:
November, 2014
artist:
*soft vowel sounds*
title:
Ray versus Macbeth and the Music Box, part one
label:
Switch Hitter Records
UPC:
889211016365
genre:
indie-pop, lo-fi
1. Music Box
2. Open Letter
3. Macbeth
4. Ray
(suggested tracks # 2, 3)
all songs written, performed & recorded by Julia Serano
download the record
The album can be streamed or downloaded (for free) from
Bandcamp
- just click "Buy Now" and enter "0" after "Name your price."
Alternatively, the first three tracks of the record are available for streaming on
Soundcloud
.
Lyrics for all four songs can be
viewed here
.
videos
Videos for two of the tracks are currently available on
YouTube
:
Music Box
Ray
photos
Cover art for the record can be viewed
here
.
High resolution files of the following images can be downloaded by simply clicking on the picture below (no photo credit necessary).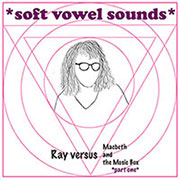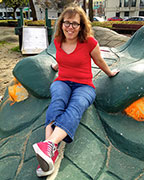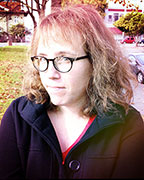 etcetera
The title and cover art for
Ray versus Macbeth and the Music Box, part one
purposefully reference the 1970 The Kinks' album
Lola Versus Powerman and the Moneygoround, Part One.
Julia of *soft vowel sounds*
details the story behind this reference here
.
If for some reason you found the earlier "brief bio" to be insufficient, here is a
more thorough bio for *soft vowel sounds*
.
And for the especially curious, here is a brief bio for Julia's previous band
Bitesize
:
From the late '90s through the '00s, the SF Bay Area band Bitesize brought a little bit of sickness to indie-pop, filling their otherwise perfect two-minute long pop gems with awkward stops and starts, weird bursts of guitar noise, quirky vocals, and lots of jumping up and down. The band released two
critically acclaimed
CDs (
The Best of Bitesize
and
Sophomore Slump
), performed at high profile events (e.g., Noise Pop, North-by-Northwest, Mission Creek Music Festival, San Francisco Pride Main Stage), and received college radio airplay nationwide.
And once again, any & all inquiries should be addressed to
so are the asterisks actually a part of the name?
No, not officially. It is perfectly fine to refer to the band as Soft Vowel Sounds - in fact, that is how it appears on many Internet sites (where artist names beginning with an asterisk are not allowed or confuse search results). The asterisks are more of an aesthetic preference with regard to artwork, etcetera.