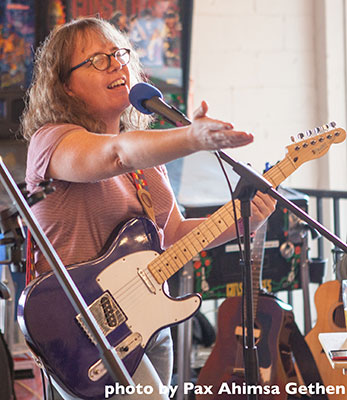 *soft vowel sounds* is the latest solo musical project from former Bitesize guitarist/singer/principal songwriter Julia Serano. so what, pray tell, does it sound like? quirky noise-pop? high fidelity lo-fi? bedroom music for people who sometimes leave their bedrooms? just listen for yourself. . .
new news!
Hey, long time, no see! The last *soft vowel sounds* live show was in February 2020—aka, a hot minute before we all went into Covid lockdown. During the interim, I've mostly been writing. Words, not music. In fact, I wrote a whole nonfiction book that has just come out on Seal Press:
Sexed Up: How Society Sexualizes Us, and How We Can Fight Back
.
I also self-published my first novel.
99 Erics: a Kat Cataclysm faux novel
came out in early 2020, just as the pandemic was hitting (great timing, way to go me). If you click that link, you will see that it won a bunch of awards. More pertinently: if you like *soft vowel sounds* & Bitesize's smart, yet silly and surreal, lyrics, you will most likely enjoy
99 Erics
.
Let it be known that I do hope to pick up the guitar again later in 2022, and finally start recording that long-promised *soft vowel sounds* follow-up record. And once I re-develop my guitar calluses, I will most certainly be itching to do some live *svs* shows again...
To hold you over until then, a special treat: Just before the pandemic, Anna Dickinson of
Polythene Pam
fame recorded a demo of me performing the *svs* fan-favorite pseudo-cover
Cisgender
—you can listen to and/or download it via that link. And given these being trying times, it's important for us to keep in mind that "We're all all right! We're all all right!"
other news!
The latest *soft vowel sounds* release is "
Cisgender
" -- a live recording of a 1970s classic rock hit, albeit with the lyrics "trans-ed" (for reasons explained in the video; the song-proper starts at about 1:40 in).
older news!
The first *soft vowel sounds* record is called
Ray versus Macbeth and the Music Box, part one
. Classic rock aficionados may recognize that the title and cover art reference the 1970 The Kinks' album that introduced the world to the eventual hit song "Lola" -- the *soft vowel sound* song "Ray" is a charming contemporary musical parody of "Lola" written from a decidedly different perspective.
Ray versus. . .
also contains three other ditties: "Music Box," "Open Letter," and "Macbeth."
Learn more about the record on the official
Ray versus... webpage
. you can listen to & download the record at the
*svs* Bandcamp site
and other music retailers (see sidebar). and here are videos for three songs from the record:
"Open Letter" is a "coming out" song that was originally written for my previous band
Bitesize
, although we never formally recorded it. here is the *svs* version:
here is a lyric-driven video for my "Lola"-parody "Ray":
here is the video for "Music Box" -- it is about being a third wheel and it appropriately takes place inside of a vehicle:
I often close my *svs* sets with a rendition of the
Bitesize
favorite "I Killed Sting" -- here is a video for that song as well: