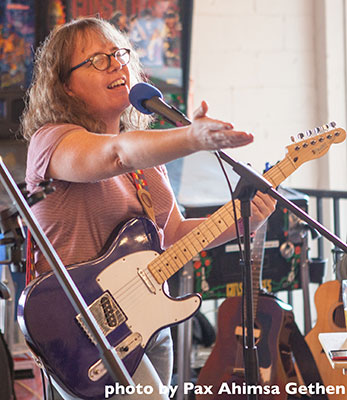 *soft vowel sounds* is the latest solo musical project from former Bitesize guitarist/singer/principal songwriter Julia Serano. so what, pray tell, does it sound like? quirky noise-pop? high fidelity lo-fi? bedroom music for people who sometimes leave their bedrooms? just listen for yourself. . .
new news!
hey, new songs are in the works, and there will likely be a new *soft vowel sounds* release in 2019! In the meantime, come see me play live - here are my next two shows:
Saturday May 18, 2019
-- *soft vowel sounds* will be playing at White Horse Bar (6551 Telegraph Ave, Oakland, CA). The other bands will be
Polythene Pam
and
Forgetmenauts
. Show at 6pm,
more details here
.
Saturday June 1, 2019
-- *soft vowel sounds* will perform a short set at the
Santa Cruz 26th Annual DYKE TRANS March
. The event will be 1 - 5pm at The Clock Tower (Pacific Ave, Santa Cruz); I will be going on right around 3pm, more details via that link.
If you want to receive updates about upcoming shows and new releases,
sign up for the *soft vowel sounds* email list
and receive a
free mp3 with each update!
other news!
The latest *soft vowel sounds* release is "
Cisgender
" -- a live recording of a 1970s classic rock hit, albeit with the lyrics "trans-ed" (for reasons explained in the video; the song-proper starts at about 1:40 in).
older news!
The first *soft vowel sounds* record is called
Ray versus Macbeth and the Music Box, part one
. Classic rock aficionados may recognize that the title and cover art reference the 1970 The Kinks' album that introduced the world to the eventual hit song "Lola" -- the *soft vowel sound* song "Ray" is a charming contemporary musical parody of "Lola" written from a decidedly different perspective.
Ray versus. . .
also contains three other ditties: "Music Box," "Open Letter," and "Macbeth."
Learn more about the record on the official
Ray versus... webpage
. you can listen to & download the record at the
*svs* Bandcamp site
and other music retailers (see sidebar). and here are videos for three songs from the record:
"Open Letter" is a "coming out" song that was originally written for my previous band
Bitesize
, although we never formally recorded it. here is the *svs* version:
here is a lyric-driven video for my "Lola"-parody "Ray":
here is the video for "Music Box" -- it is about being a third wheel and it appropriately takes place inside of a vehicle:
I often close my *svs* sets with a rendition of the
Bitesize
favorite "I Killed Sting" -- here is a video for that song as well: