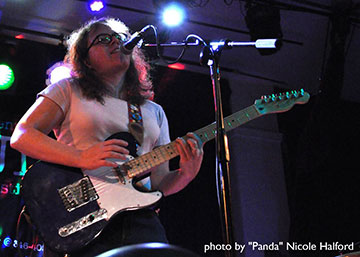 *soft vowel sounds* is the latest solo musical project from former Bitesize guitarist/singer/principal songwriter Julia Serano. so what, pray tell, does it sound like? quirky indie-pop? high fidelity lo-fi? bedroom music for people who sometimes leave their bedrooms? just listen for yourself. . .
new news!
the first *soft vowel sounds* record is here! it is a small recording called
Ray versus Macbeth and the Music Box, part one
. classic rock aficionados may recognize that the title and cover art reference the 1970 The Kinks' album that introduced the world to the eventual hit song "Lola." the *soft vowel sound* song "Ray" is a charming contemporary musical parody of "Lola" written from a decidedly different perspective.
Ray versus. . .
also contains three other ditties: "Music Box," "Open Letter," and "Macbeth." to listen, purchase, and/or find out more about the record, click
here
.
I recently created & uploaded videos for two of the songs from the record to YouTube:
here is the video for "Music Box." It is about being a third wheel and it appropriately takes place inside of a vehicle:
and here is a not so video-ish video for the song "Ray"
also, on Tuesday, December 2nd, I will be performing a couple of songs for the Bad Dyke Book Release + Bawdy Storytelling, featuring Allison Moon, Dixie De La Tour and other storytellers TBA. At Awaken Cafe (1429 Broadway, Oakland), Doors at 7, Show at 8, Tickets $15 (available for purchase
here
). More show details can be found
here
.